Happy Friday the 13th! It's starting to feel more and more like Spring around here and I couldn't be more excited!
To get in the spirit I pulled out one of my favorite wreaths that I've made. I think it's the combination of the delicate little blossoms and the speckled eggs that just make my heart giddy!
I also stepped out of my neutrals comfort zone on this one by adding in some very light green ribbon. It's light enough that it doesn't call too much attention, but bright enough to be cheerful and spring-like.
I started with the cream ribbon and wrapped it all the way around. Then I tucked in the flowers and used hot glue when necessary.
I hot glued 3 speckled eggs inside a small nest (both found at Hobby Lobby in the wreath aisle).
I finished it up by crossing the cream ribbon with the green ribbon and making a bow.
Doesn't it scream Spring without being too Easter-y?! It was very simple and cheap to make.
Grapevine wreath: $5
Two rolls of ribbon: $6
Speckled eggs: $5 for a package (I only used 3 but you could add more)
Nest: $3
Just like this wreath, I'm keeping it short and sweet today, peeps! I hope everyone has a fantastic weekend. We will be headed to the annual St. Patrick's Day parade tomorrow morning so I'll be back on Monday with some pictures :)
Linking up to
these
awesome parties!
This post was featured on FridayFrenzy and Do Tell Tuesday! Click on the images below to take you to the feature posts.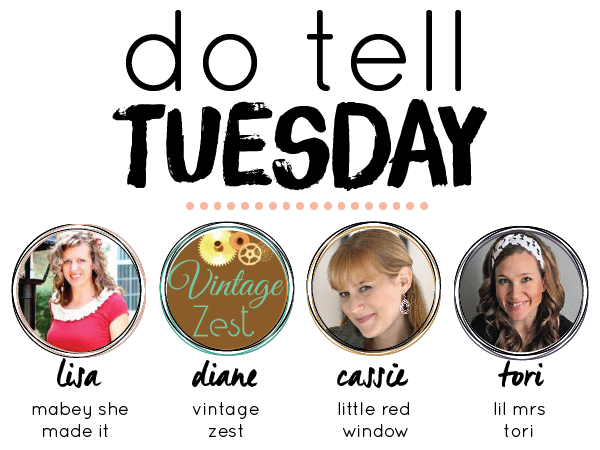 (Spring Wreath)