Well hello there! I know I kind of dropped off the planet for about a month. :( But I'm still around! I've just had a lot going on and haven't had much time or energy for any new projects.
We have however, done a little more cleaning in the yard and managed to clean out our entire garage. There is officially nothing on the garage floor (other than the trash cans) and we can finally park 2 cars in there for the first time since moving in! Eeeek! It's the little things :)
I wanted to write about my plans for my little man's big boy room because I have a
million
ideas swimming around in my head and I feel that if I start piecing them together, it will be easier for me to actually get started.
Ever since we introduced Tristan to Thomas the Train, he has been
obsessed
with trains. So it didn't take much pondering to decide what kind of theme we should go with!
I want to keep it colorful and playful, yet Pottery Barn-ish. This is my favorite inspiration photo, which is actually from thge Pottery Barn website.
(source)
Isn't it awesome? Pottery Barn you are amazing. My favorite part is the bedding, which of course they don't make anymore. It's just as well, because I would probably end up dropping a huge chunk of change on something that my little boy is just going to dirty up!
I also really like the rustic planked walls, however I think it would make his already small room feel too tiny.
I think I'm going to go light and bright with Benjamin Moore Gray Owl (which I've heard wonders about).
(source)
And I think that a striped accent wall is a must.
(source)
I want to incorporate a few rustic and industrial touches as well. Like huge galvanized letters on a shelf to spell out his name.
(source)
Since he loves books so much I want to build him a special bookcase to display his books. I have an idea of how to make one that kind of looks like a train track and I'm pretty excited about it!
And you can't have a bookcase without a cozy little reading chair! I started looking around for a pinstripe one similar to the Pottery Barn photo, and I was pleasantly surprised to find this one at Target for only $35.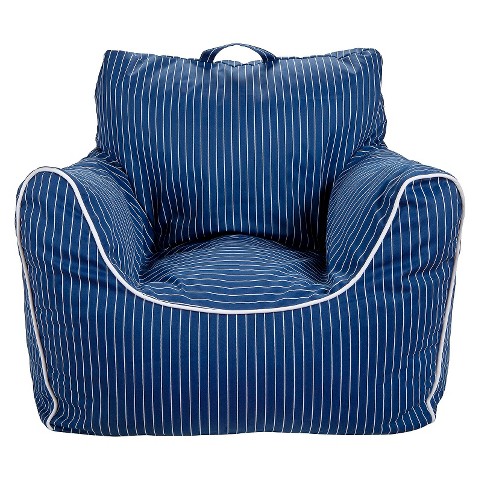 (source)
Doesn't it remind you of a railroad conductor's hat? Too cute!
Another thing I'm stealing from the Pottery Barn inspiration photo is the traffic light lamp. I was brainstorming how I could DIY one, when I ran across this on Walmart's website.
(source)
It's only $17, and my DIY plans were a little more. So in cases like these, it's cheaper and easier to just buy.
I definitely want to add some signs on the walls. A railroad sign like this one could easily be DIY'ed.
(source)
And I just adore this track that runs along the wall. I could make something similar using wood and pipe.
(source)
Back to the plank wall idea (sorry--my ideas are all over the place!) I could make a headboard instead of doing a whole wall...
(source)
So far this is probably my favorite bedding that I've found, but I haven't decided whether we are going to get a toddler bed or just use a twin. This set only comes in a toddler size unfortunately.
(source)
Well those are the big ideas that I have for now. I'm sure I'll find a ton of cute little train themed items as I'm shopping around.
I plan on starting a few of the smaller projects soon, but I'm can't guarantee when I'll actually get started haha. So bear with me for a few. I promise I'll be up and running again as soon as I can.
Have a wonderful week everyone! :)