I saw this the other day and thought to myself, "oh boy does that ring true!"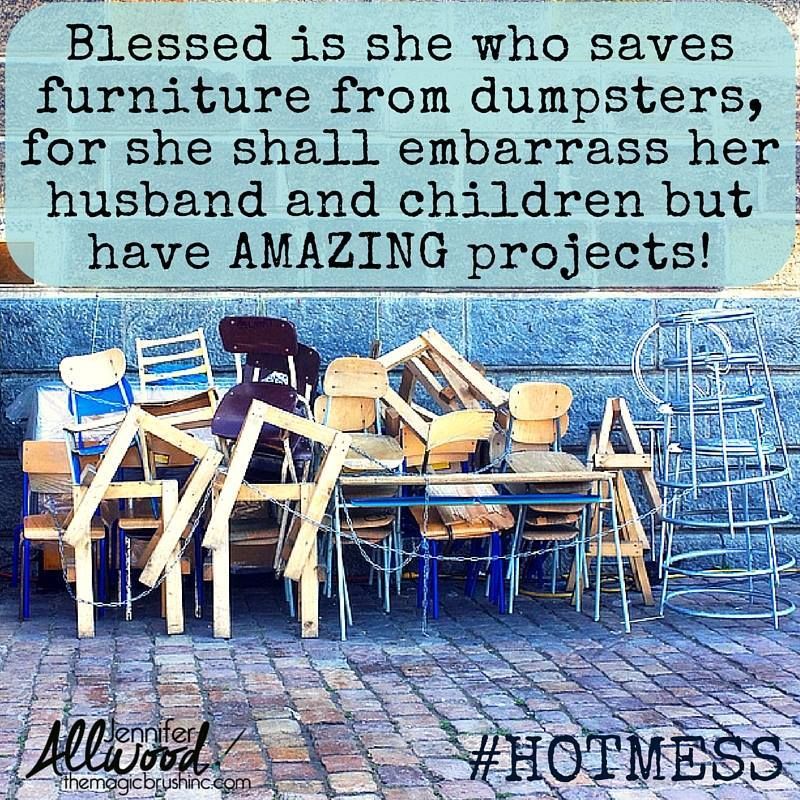 Luckily my kids are still too young to be embarrassed by my curbside pickups, and my husband has become pretty immune to having 4 furniture makeovers sitting in the garage at one time. So immune that it was no surprise to him the day that I asked him to turn the car around so that I could pick up this poor little table that someone had left out by their trash.
.
The best part about this cutie is that it's real wood, which is hard to come by these days since it seems like almost everything is made out of particle board. The only thing wrong with it was a leg that was starting to pop out (that I just hammered back into place) and of course the nasty worn paint.
I immediately started going through all of the options. Should I stain the top? Should I stencil something fun on it? I ultimately decided to go the
get it done within naptime
quick route which was painting the whole thing with a nice fresh coat of paint.
I used two coats of my
DIY chalk paint
. I love how thick it is, it went over the old chipped paint and filled it all in so I barely had to sand the table beforehand.
I used some fine sandpaper to smooth out the brush strokes and to distress it. I focused on the tabletop sides and legs but also pulled out some spots on the top.
Isn't it the cutest little side table you've ever seen?
I love the simplicity of it and it just so happens to be the perfect height next to our new Ektorp sectional from IKEA that we just got for the basement (
cue my utter excitement about that here!
) We don't get much light in the basement so I moved it upstairs to photograph.
The whole process probably only took about an hour and it was a true trash to treasure for sure! Have a great day everyone :)
Linking up to
these
awesome parties!